Bleisure, the blending of business and leisure when it comes to travel, is not a new term. According to a Wikipedia page on the subject, the term was first published in 2009.
But the term has become popularized more recently through adoption by digital nomads, people who travel freely while working remotely.
Survey about Bleisure Travel on LinkedIn
For those who don't make living on the road their full-time lifestyle, there is still an attraction to combining some leisure activities with a business trip. TCRM recently sought to find out what motivates people to turn a business trip to a "bleisure" one, how often they do it, and potentially learn some ways that hotels can attract this type of traveler.
Through a series of polls on LinkedIn posted in early January 2023, we asked questions like:
How many bleisure trips have you taken in the past 12 months?
What percentage of business trips become bleisure trips?
What type of accommodation would influence a business trip becoming a bleisure trip?
We'll start with how often business travelers combine business with leisure then we'll look at motivations, such as why they would consider bleisure and the type of locations.
How Many Bleisure Trips in the Past 12 Months
We received 162 respondents to our polls. The highest percentage of respondents, 37%, said they took 1-3 bleisure trips in the past 12 months. 18% of respondents said they took 4-6 bleisure trips, while 16% said they took 7 or more bleisure trips. This means nearly three-quarters, 71%, of all respondents took at least 1 bleisure trip in the past 12 months, an encouraging statistic. 29% of respondents said they did not take any bleisure trips in the past 12 months.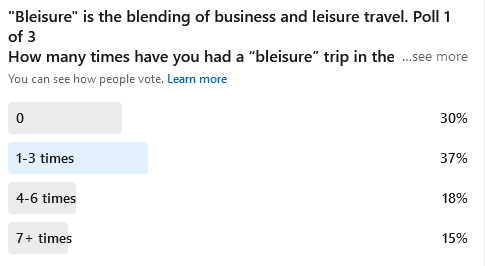 Percentage of Business Trips that Become Bleisure Trips
More than three-quarters of respondents, 78%, said that less than half their business trips became bleisure trips. Nearly half, 47%, said less than a quarter of their business trips became bleisure trips.
When compared with the first question, we can infer that business travelers do combine leisure elements when traveling, but they are selective about which business trips they extend for leisure.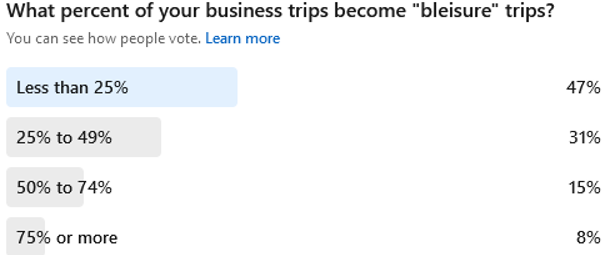 Motivations for Various Accommodations
Hoteliers will be very pleased to know hotels and resorts are still top of mind for bleisure travelers compared to alternative accommodation types, such as short-term rentals. Not surprisingly, resorts were the favorite choice with 77% of respondents. Hotels were second at 19%.
Two-thirds of bleisure trips start off as business trips, as travelers work first and play later, while one-third do both intermittently. Surprisingly, no one responded they "play first, work later".
This question was intended to learn if business travelers arrive earlier than their business meetings for leisure purposes, such as on Saturday or Sunday nights. Clearly, however, it seems most travelers are willing to stay past their business purposes, perhaps tacking on an extra day or two, to play later.
This is most obvious at resorts, where group and business travelers often stay over weekends after their business meetings. Business hotels in leisure markets or in cities with nearby attractions experience the same thing. About a third of respondents do both intermittently. This likely means working during the day and taking in leisure activities in the evening.

---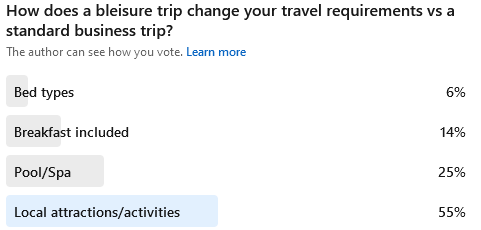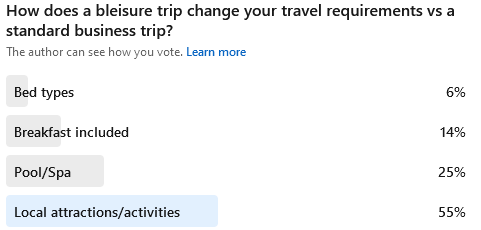 Strategies for Hotels To Capture More Bleisure Travel
So, what are some strategies hoteliers can take if they want to capture bleisure travel? It seems that resorts and hotels in popular locations would have an easier time selling business travelers a few extra nights.
However, hotels that struggle for occupancy on weekends, such as hotels in corporate locations, may come away with a few tips, as may resorts with early mid-week occupancy challenges.
Weekday/Weekend Rates
Bleisure travelers almost always tack on a day or two after their business is concluded. "Mullet Travel", a funny way to say it's all business up front and fun in the back, is by far the most common travel pattern. Hotels more traditionally suited to business travelers may want to offer their negotiated accounts special weekend rates to encourage their travelers to stay over if there are attractions nearby. And be sure to emphasize (and constantly update) those attractions and local events on their websites.
Amenities that Support Remote Work
To encourage business travelers to extend their stay, be sure they know all the ways they can relax and play both on property and nearby. Emphasize room type features that support remote work, such as spacious work areas with lighting and USB ports, in-room refrigerator. If customized confirmation emails are an option, for business traveler segments highlight the idea of extending their stay and keeping the same room.
Rich Content About the Local Area
Rich content that is both descriptive and unique essential to attracting visitors to their website. Hotels wanting to increase their capture of bleisure travelers should provide this content not only about their property and brand, but also about local attractions and fun things to do on-property or nearby. Consider featuring local attractions on the website and keeping an updated events calendar Also, don't forget to update content on OTA channels to help in a similar way.
Have the Traveler in Mind
While we did not poll for demographics, we can assume that business travelers with families at home are less likely to stay away more nights than necessary, wanting or needing to return home to be with family.
However, singles who travel for work may be more inclined to tack on nights before or after their business. Similarly, couples without children or empty nesters may be more inclined to travel together on occasions, combining work and leisure. Knowing the types of travelers your hotel typically attracts may inform how you strategize to capture more bleisure guests.
Digital Nomads
There is a growing lifestyle trend of full-time travel due to more acceptance of remote workers. The demographics tend to skew younger, single, or married without children. The freedom to work remotely from anywhere is not only liberating but personally rewarding for many. While not all hotels are ideal for long-term stays, many can cater to shorter bleisure travel patterns.
The CEO of Choice Hotels, Pat Pacious, recently commented on this in the Boardroom Outlook panel at ALIS 2023: "If you look at remote work, it's really sort of lifted that constraint of time where the workweek is now maybe three days a week and the other two days of the week people have the flexibility to work from anywhere," he said. "In our business, we're seeing more Thursday night check-in for weekends and Monday morning check-out."
Analyze arrival and length of stay patterns that work for your property that might also appeal to bleisure travelers if priced well. Offer extended stay rates to "Work and Play" that would appeal to business travelers without a negotiated price.
Bleisure Travel is Not Going Away
Bleisure travel is a growing trend, popularized by mobile remote workers seeking to enrich their lives with travel. However, even traditional business travelers are taking advantage of opportunities to add a night or two for leisure activities. Hoteliers can tap into this trend by knowing their guest demographics, developing creative strategies, and leveraging the use of rich content and meta tags to promote their properties.