Survey reveals early pattern in Transient Pace Declines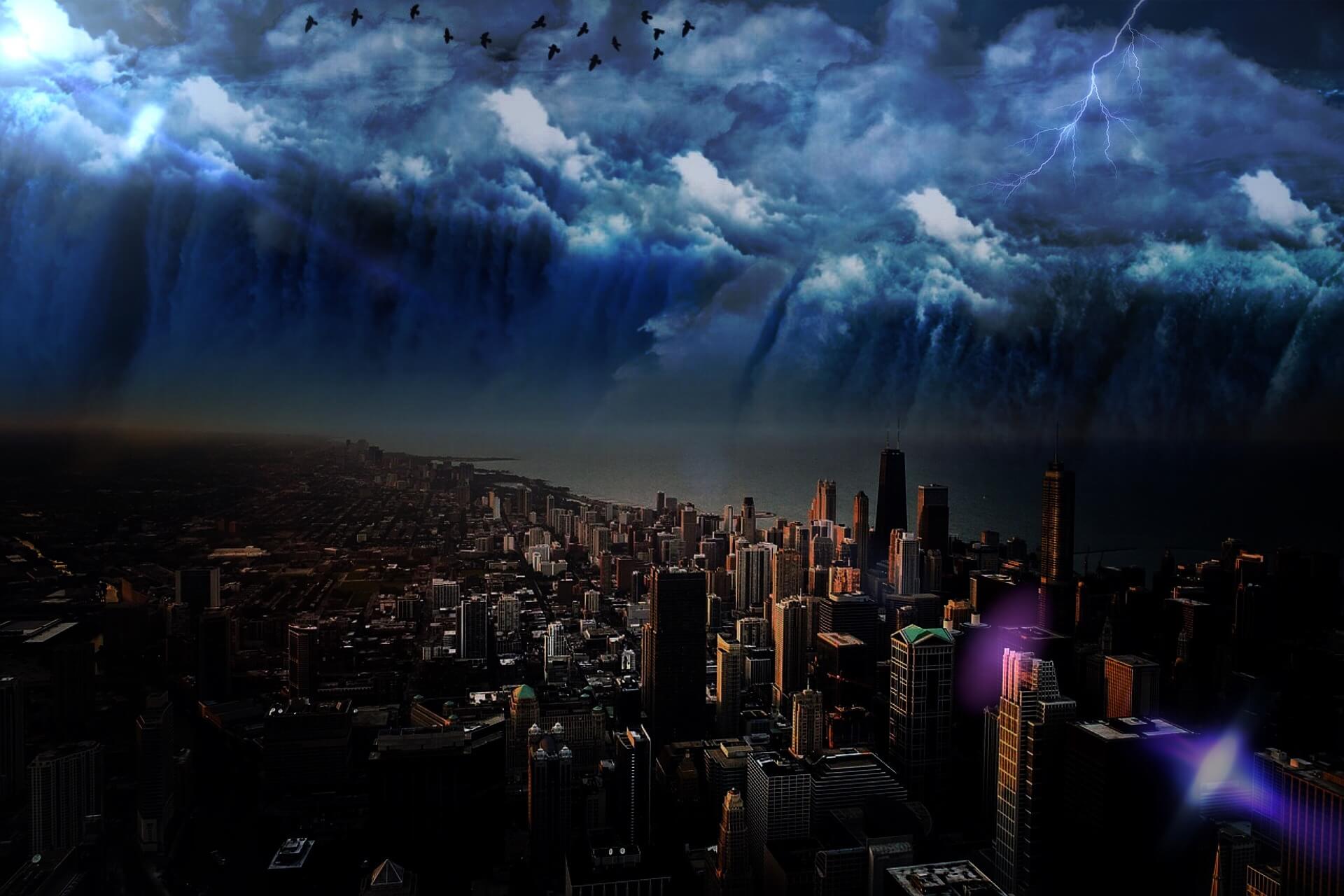 On March 9, TCRM sent out a survey asking respondents to measure the impact the novel coronavirus was having on their hotel Transient booking pace as measured since March 1st. The survey was sent to both branded and independent hotels in the U.S. only.
Sample size
135 respondents
split nearly evenly between branded and independent hotels, with 68 and 67 respectively
2/3 of responses received March 9 to 11
1/3 received March 12-16
Combined results showed that 67% of all respondents experienced a decline of -1% to -40%, with slightly more than half of those hotels (56%) experiencing -1 to -15% declines. The impact was essentially the same for both branded and independent properties, as the slow down with travel was not discriminatory.
13% of all respondents reported their transient pace declined between 41% to 70%. 4.5% reported a drop of more than 70%. Only 11% of respondents reported that their transient booking pace remained the same, while 4.5% reported an increase in transient booking pace.
It's important to note that this survey was first sent before more aggressive containment measures were implemented by city and state governments. If the survey had been sent a week later, it is fair to assume that nearly all respondents would have reported 70% or greater declines. Nearly all hotels have experienced mass cancellations and sharp declines in pace, as seen in STR results for the week ending March 21.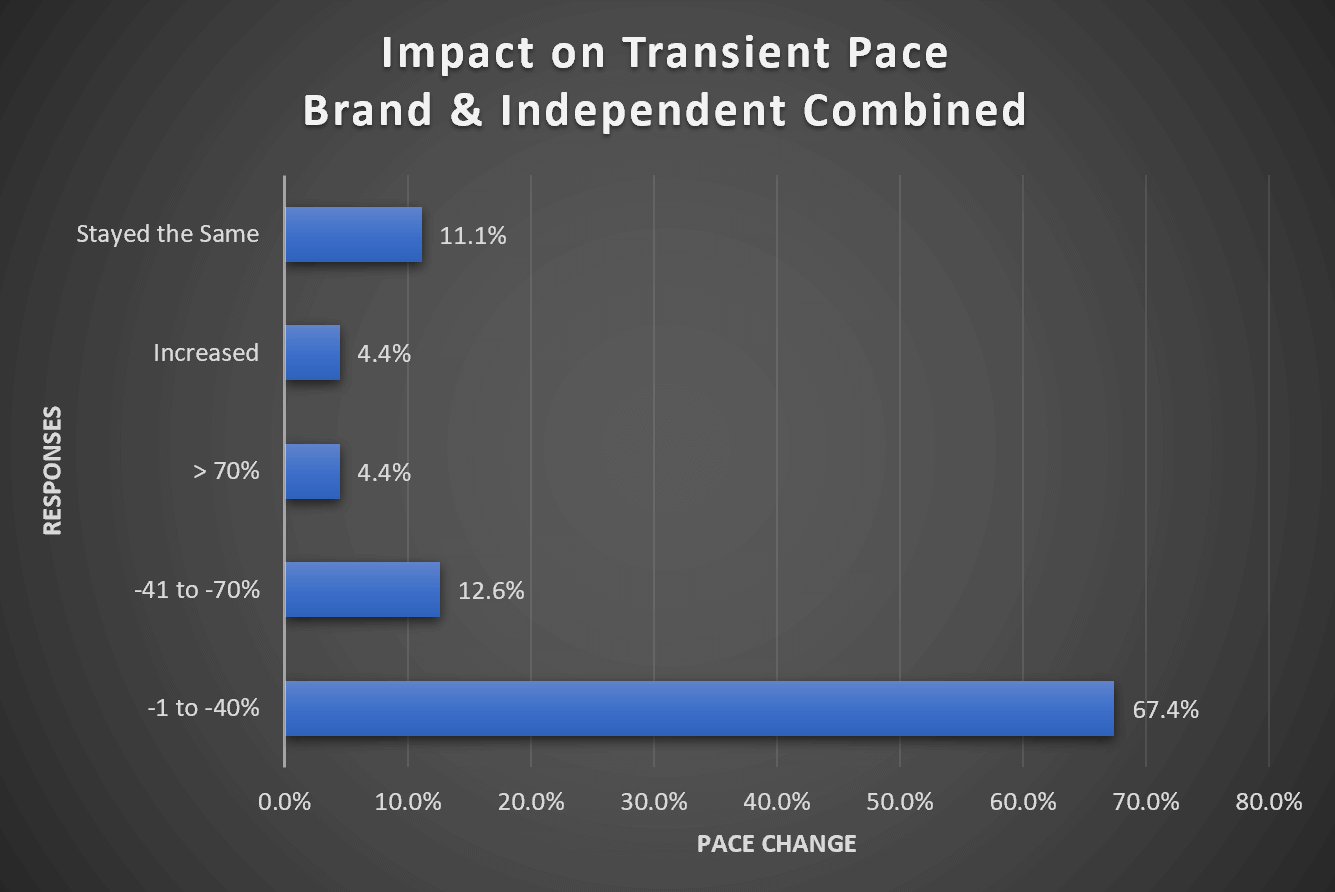 Independent vs. Brands
When looking at Independent and Branded hotels separately, there were some stark differences.
Branded hotels reported a larger decrease in booking pace of -1 to 40%, with over 76% of respondents reporting a decrease of up to 40%.
For the same measure, only 58% of independent hotels reported -1 to -40% declines.
Branded and independent hotels reported similarly for 41% to 70% declines, with 12% for branded and 13% for independent hotels.
9% of independent hotels reported a decline of 70% or more, while 0% of branded hotels reported greater than 70% declines.
6% of independent hotels reported an increase in booking pace, while only 3% of branded hotels reported an increase.
Finally, 13% of independent hotels reported transient booking pace remaining the same, while 9% of branded hotels reported no change in pace.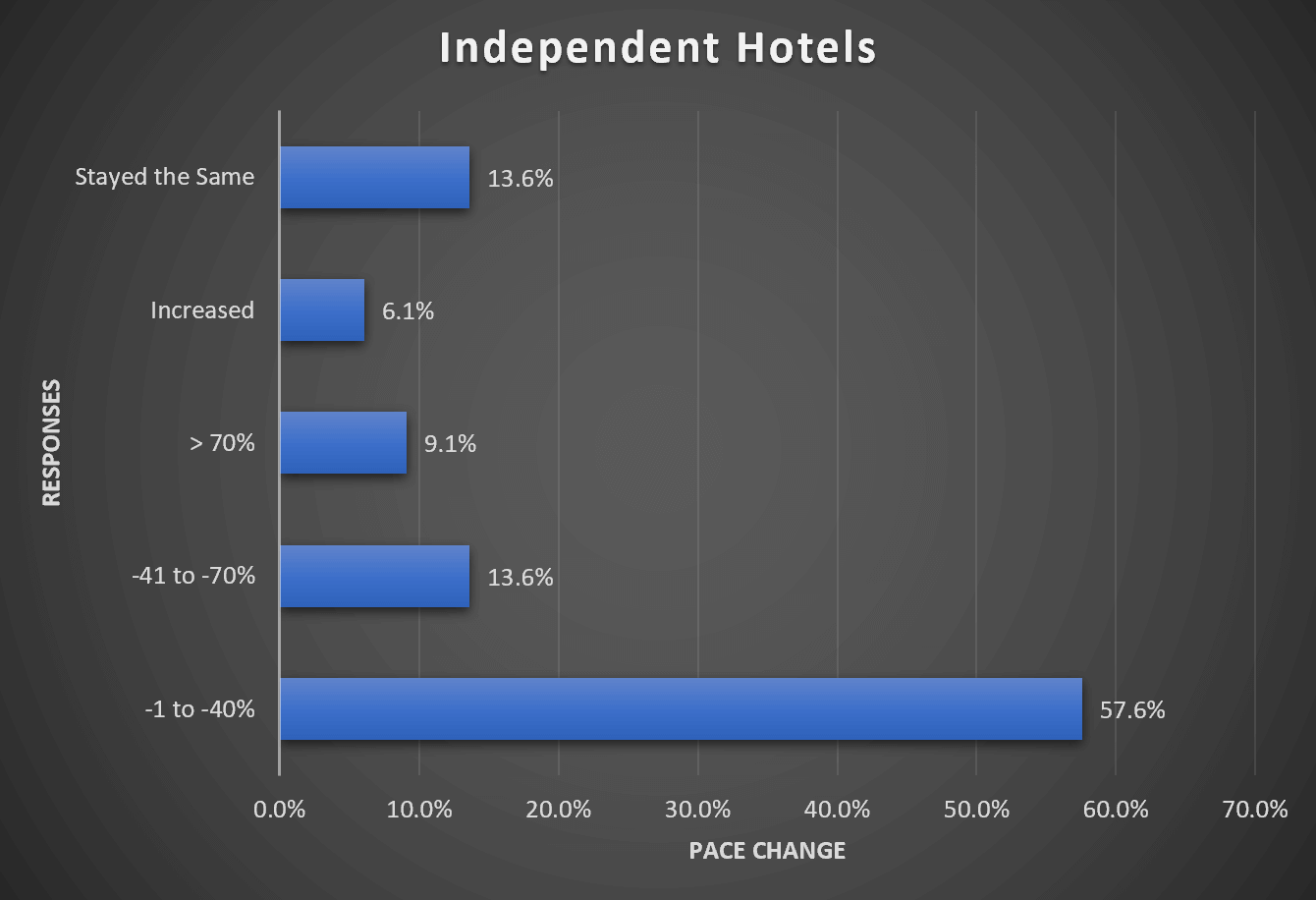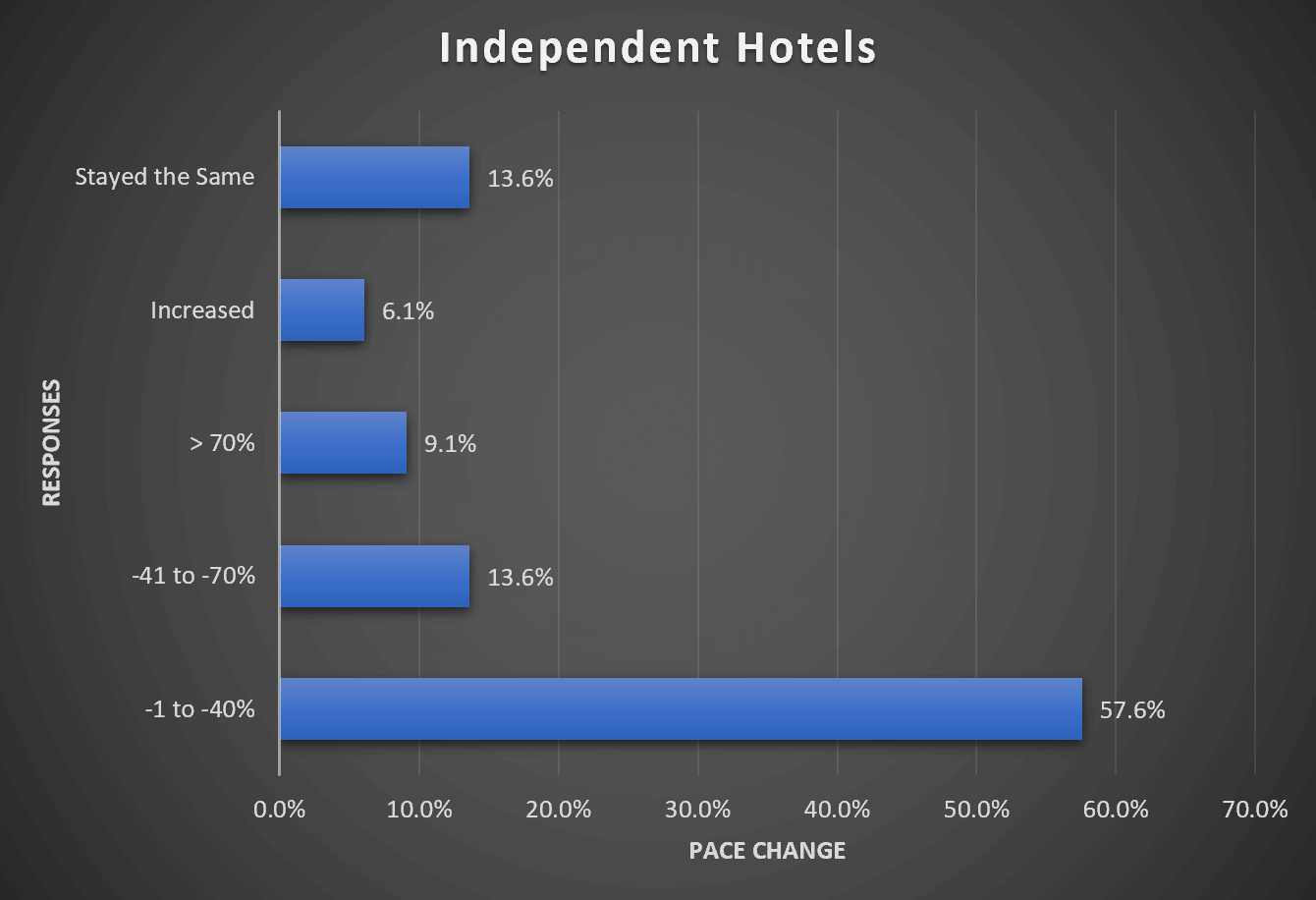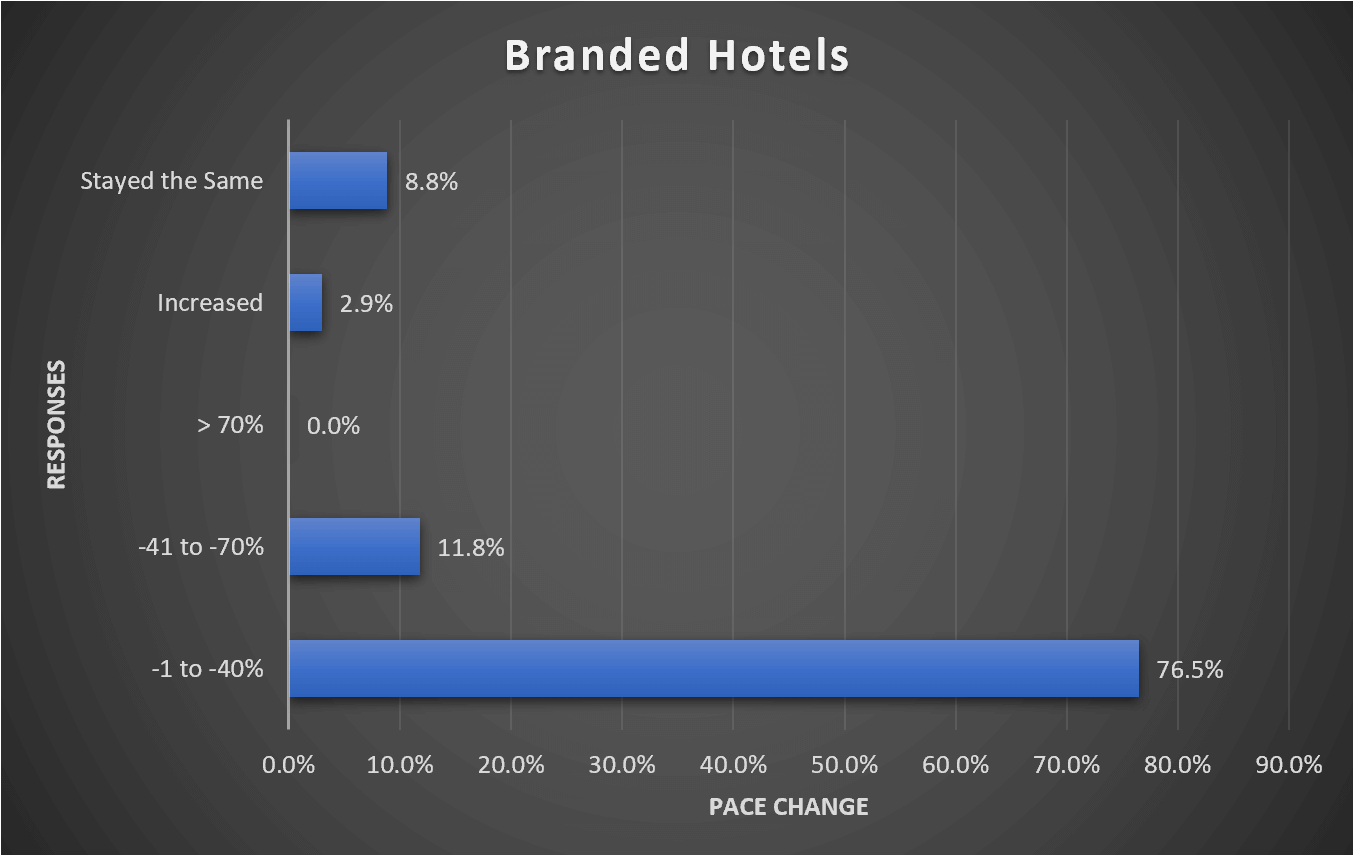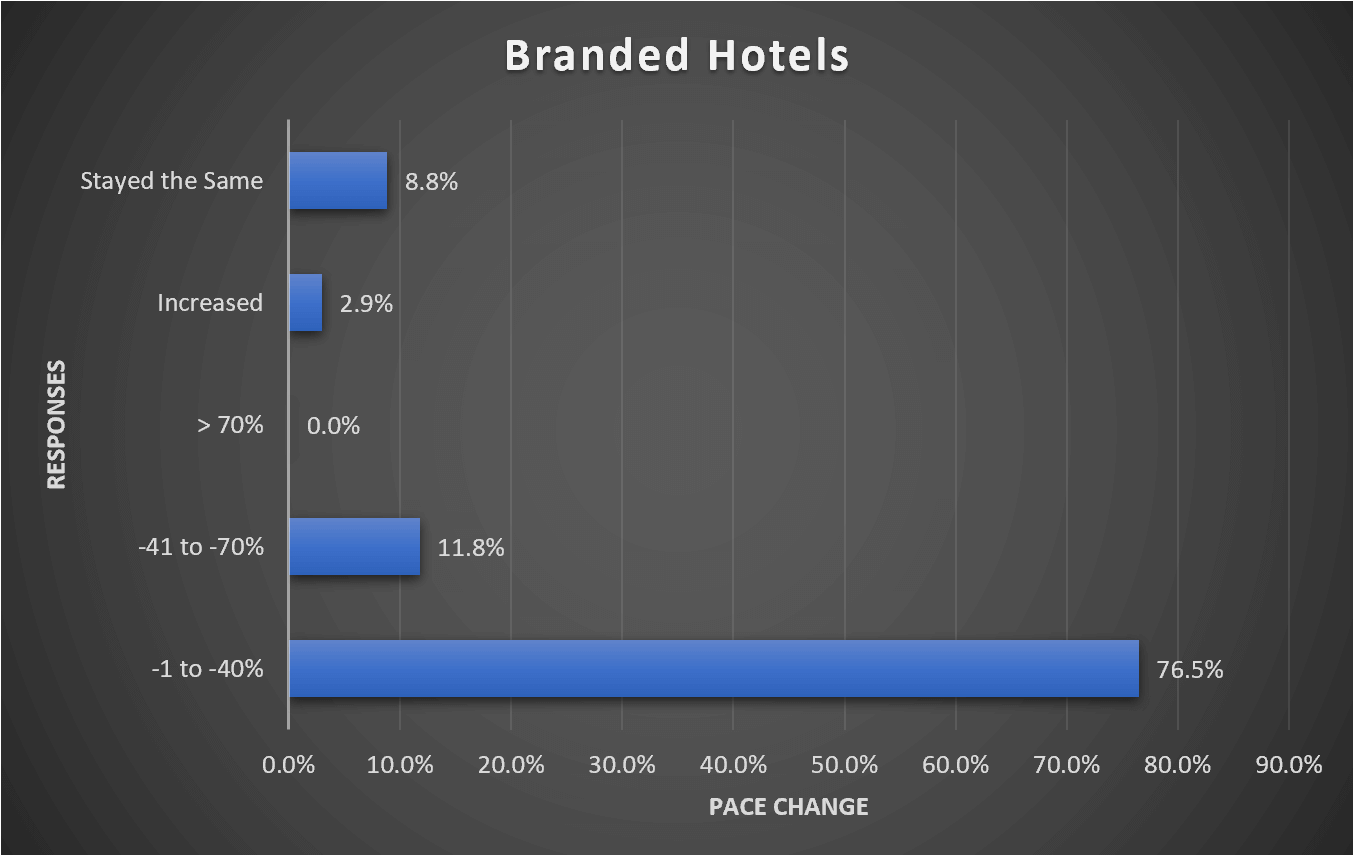 How Just a Few Days Made a Difference
Finally, we looked at all responses by time frame. As previously mentioned, some 67% of responses arrived between March 9-11 while the remaining arrived between March 12-16.
As the chart below shows, every pace category saw a large shift between the early responders compared to the later responders, whereby the later responders were seeing a larger decrease in transient pace than the earlier responders.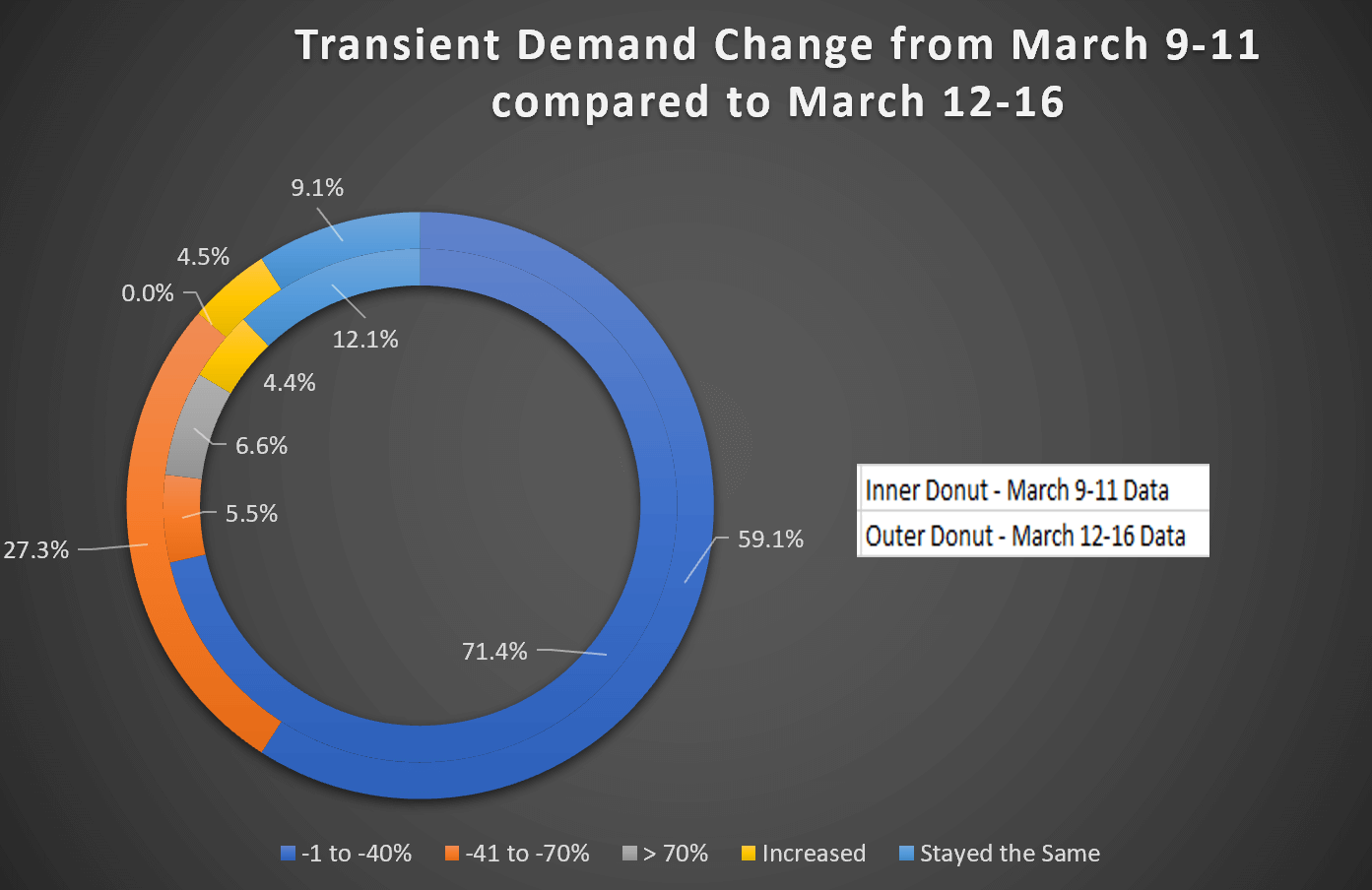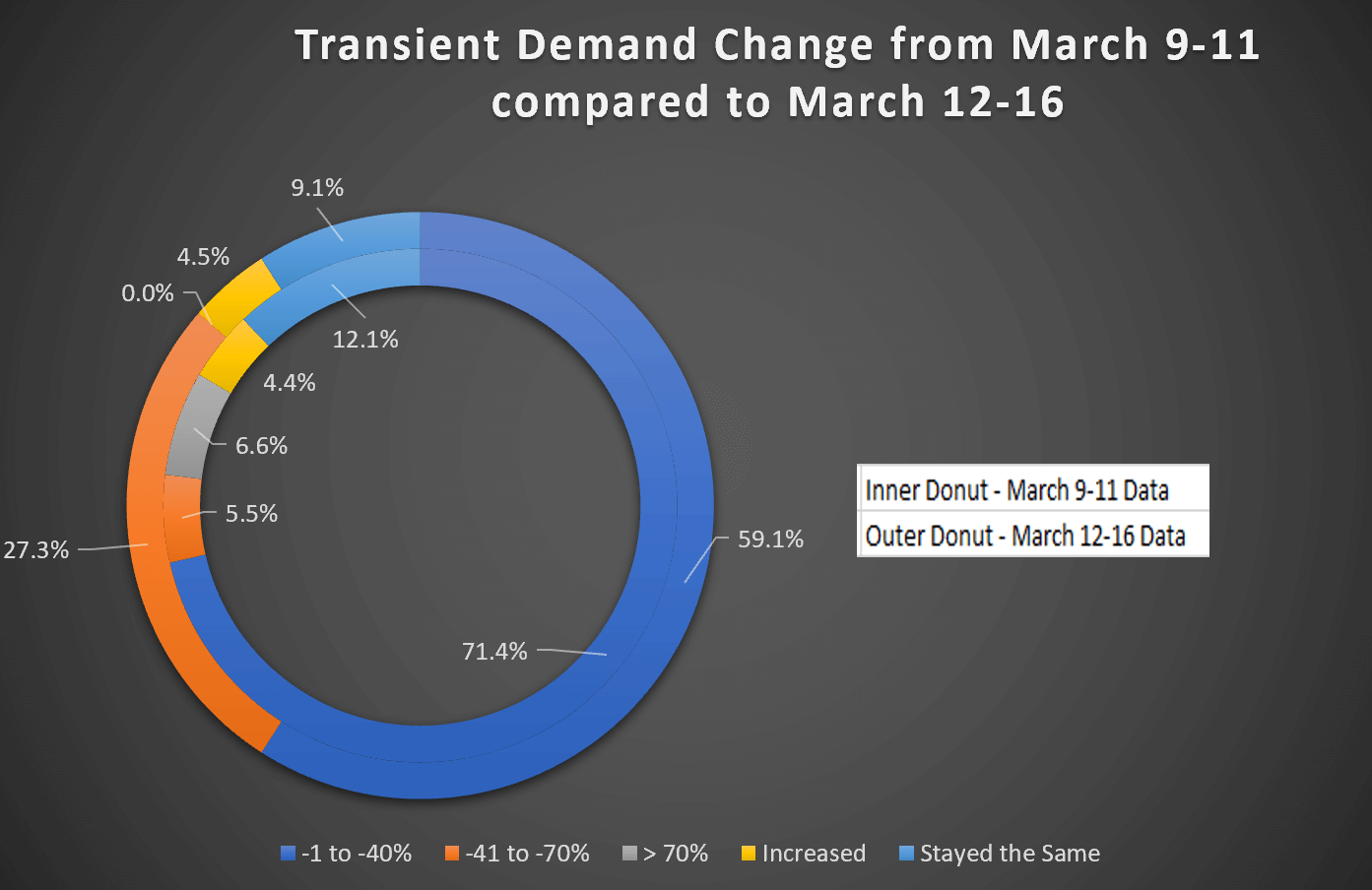 As the chart reveals, 71% of early responders saw a decrease of -1 to -40% in transient booking pace, while only 59% of later responders saw the same decrease, a 17% change.
Later responders experienced a larger impact on their pace, as 27% stated their transient pace had declined between -41% to -70% compared to only 5.5% of early responders, a dramatic 80% change.
Some 6.6% of early responders indicated a greater than 70% decline in transient pace, while none reported in this category in the later responses.
Finally, 12% of early responders indicated no change in their transient booking pace as compared to 9% of later responders, a 25% decline.
Our survey, conducted early into what has become the U.S. Hotel Industry's worst crisis ever, reveals in just a matter of days how things went from bad to worse. By now, the industry is facing massive layoffs as hotels are closing or barely sustaining occupancy to remain open.
No one knows how long, or how deep, this pandemic crisis will cut into the industry or the U.S. economy for that matter. What is certain, however, is how quickly things changed. It may be a rough road to recovery, but we are here to help make sure hotels are on the right path to future sustainable success!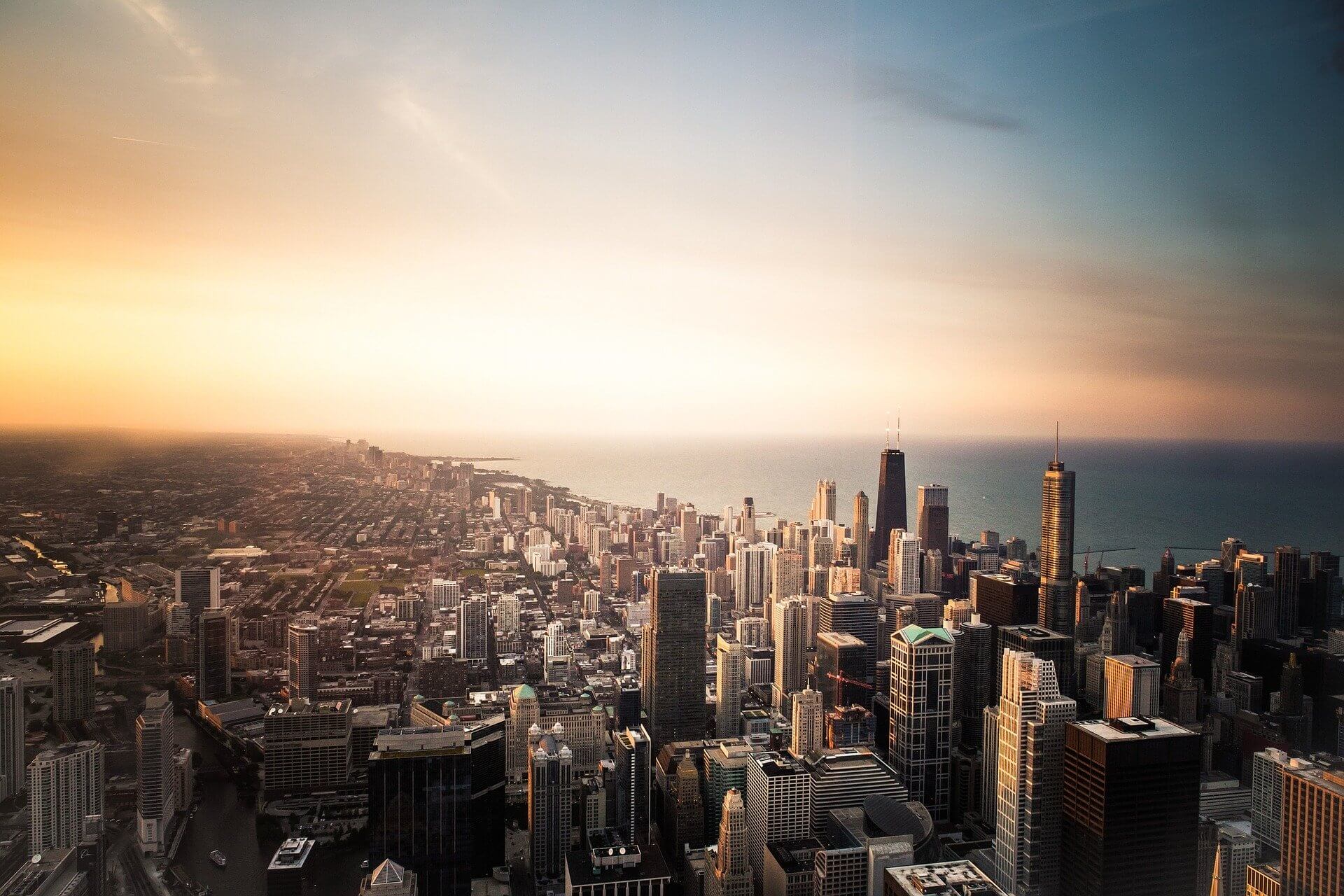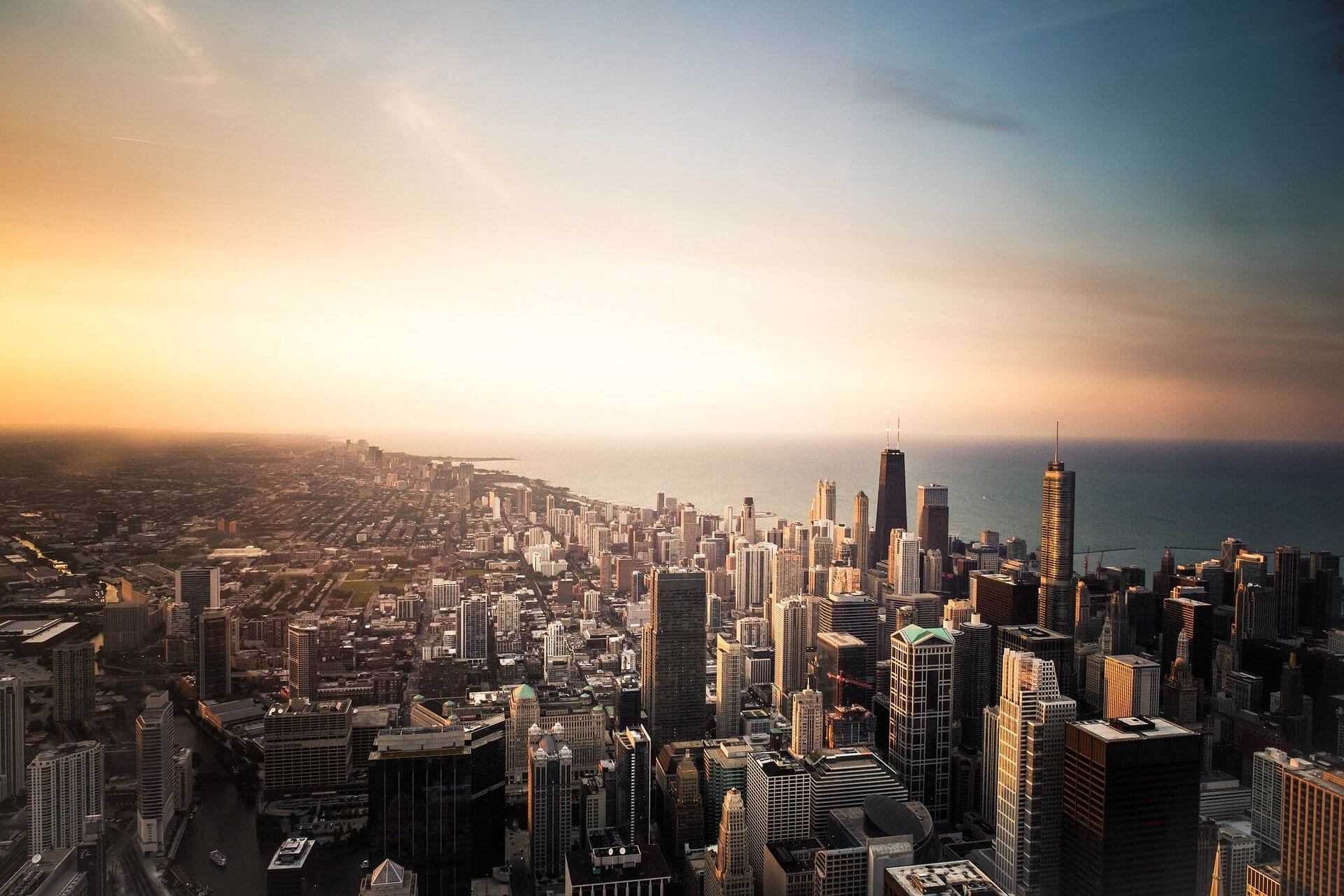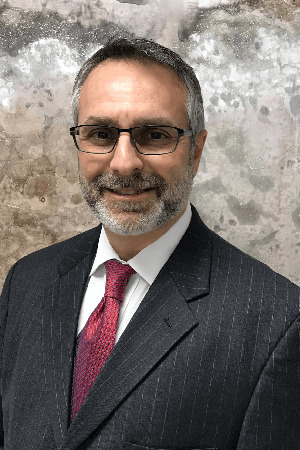 DAVID BEAULIEU, CHIA
Executive Director of Client Success
David Beaulieu is the Executive Director of Client Success at Total Customized Revenue Management (TCRM), the premier provider of a wide array of Revenue Management services.  In this role, David is responsible for developing client relationships that promote retention and loyalty for TCRM by ensuring the smooth onboarding, activation, and offboarding of services for TCRM's clients through the entire lifecycle of their contracts.  Prior to this role, David served as Director of Client Services for TCRM, where he was responsible for leading TCRM's branded revenue management services.
Having spent over 23 years in hotel revenue management, David has developed a strong set of skills with respected full-service brands in many markets.  A successful leader and team builder in revenue management, David utilizes these skills to ensure TCRM's clients are well served and generating strong performance results.
David began his career in hospitality with Hilton Hotels Corporation (Now Hilton Worldwide) and spent 11 years moving through a progression of roles and assignments.  He has also worked at Loews Hotels & Resorts, as well as two award-winning third-party management companies, Davidson Hotels & Resorts and Crescent Hotels & Resorts. David is a four-year veteran of the U.S. Air Force and holds a bachelor's degree in business administration from Columbus University.